Alpine lakes are abundant in Washington! In the Alpine Lakes Wilderness area alone there are 700+ lakes. Looking at stats for Washington in general, there are over 1600+ recorded lakes about 2500ft of elevation gain.
The creme de la creme of Washington's alpine lakes are those with the stunning turquoise color! Whether you are looking for a strenuous, multi day backpacking elopement or more of a relaxed, road side lake there is a turquoise lake for everyone!
What Gives The Alpine Lakes Their Turquoise Color?
A phenomenon known as "glacial flour." As glaciers melt, the run off collects into these alpine lakes and bring along tiny sediments. These sediments float around the lake creating that milky water affect and as the light hits the lake, it reflects back the stunning green and blue hues. Depending on the weather, the lake can appear different colors and shades! Of course, a sunny day will have the most dramatic color.
How To Get That Color to 'POP' In Your Photos!
First things first, you'll want to look for a photographer with experience in the mountains of Washington and photographing in these elements. Many of the suggested lakes below are not for the faint of heart! Check out my blog on how to find an elopement photographer here!
Up next, you'll want to evaluate potential photographers work for tones and color. Photographers who lean towards warm/brown and muted colors/tones will struggle with getting the turquoise color to pop correctly. Many times it will look very faded/washed out and not how you remember it from the day. A photographer with a true to life style (like me!) that doesn't shy away from blues is perfect for these types of lakes!
Practice Leave No Trace to Protect Alpine Lakes
Alpine environments are fragile! They withstand crazy weather and environmental stressors so it is important to travel with care and pack it in/out. If you plan to swim in these stunning lakes, make sure to remove bug spray and sunscreen beforehand so not to pollut the water! Learn more about making sure your elopement is leave no trace friendly here.
Top Turquoise Lakes In Washington
Baker Lake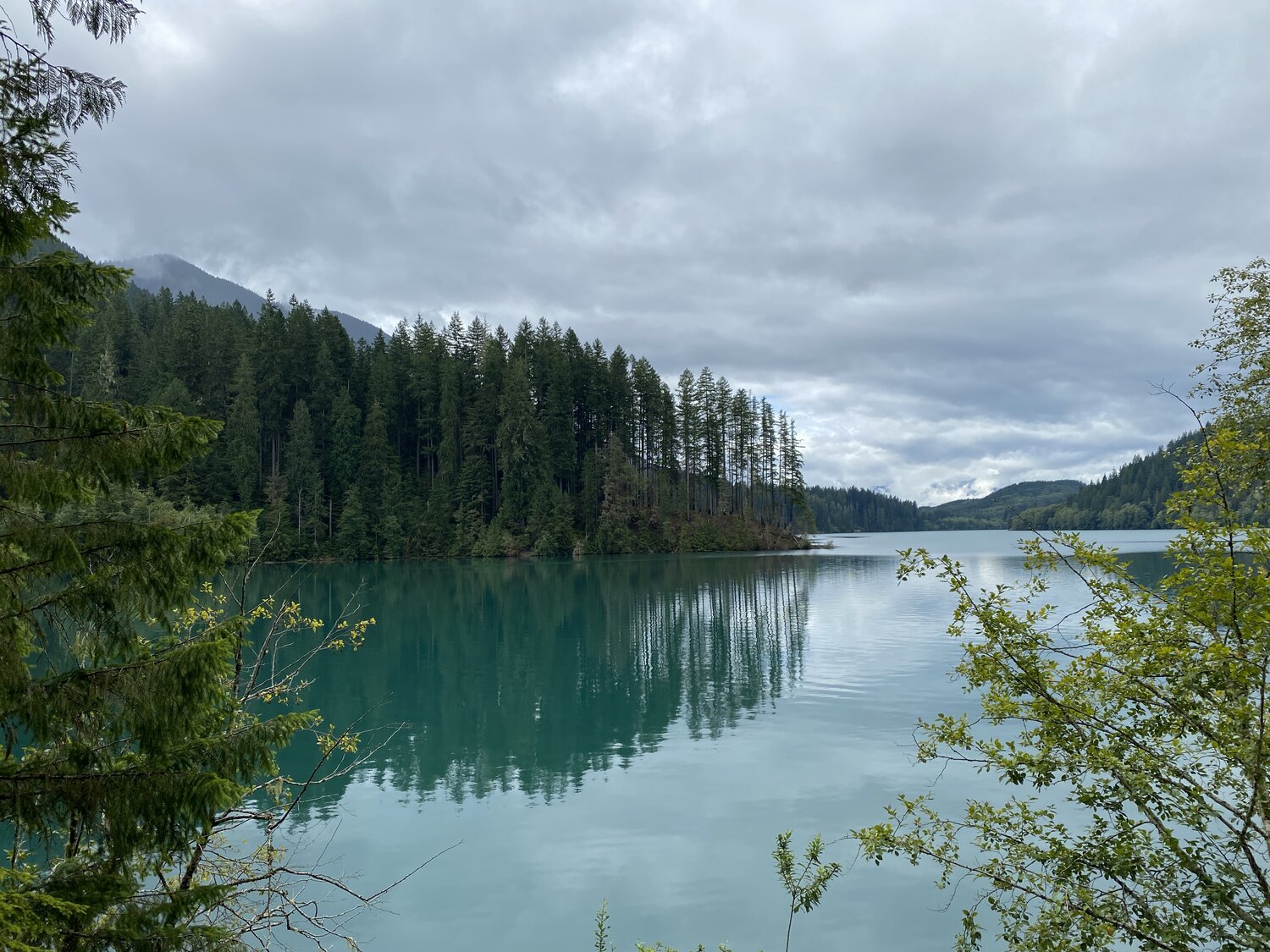 Land Manager: Mt Baker Snoqualmie National Forest
Hiking Difficulty: Easy
Popular Activities: Hot Spring, Paddle Boarding/Canoeing
This beautiful lake is located in the northern part of the North Cascades with stunning views of Mt Baker. Great for camping, relaxing, and exploring the waters via paddleboard/canoe/kayaks. In addition, there are lovely hikes in the area and even a hot spring!
Diablo Lake
Land Manager: North Cascades National Park
Hiking Difficulty: Easy
Popular Activities: Picnic, Canoeing/Paddle Boarding
As you begin to snake your way into North Cascades National Park, you'll be treated to glimpses of this stunning lake. On the eastern shores, you'll find the campground and a walk up beach. Bring your kayak/canoe/paddleboard to explore this beautiful lake. You can even have a ceremony right on the rocky beach. The meadow overlook is closed for conservation efforts to bring it back but if you like that view, I know of a few different trails that have similar views!
Rattlesnake Lake
Land Manager: Rattlesnake Lake Recreation Area
Hiking Difficulty: Easy for lake; Moderate for ledge hike
Popular Activities: Picnics, Hiking, Paddle-boarding, Swimming
Perfect spot for a lake side ceremony that is very easy for people to access! The parking area is right next to the lake. As you explore around the lake you'll get more and more privacy. In late summer and fall, when the water levels are lower you can even stand on huge tree stumps! Up for a hike, head on up the Rattle Snake Ledge trail for epic views of the surrounding mountains and the overlook of the lake.
Colchuck Lake
Land Manager: Okanogan Wenatchee National Forest
Hiking Difficulty: Difficult
Popular Activities: Hiking, Backpacking (special permits needed)
Colchuck lake is one of the first lakes you'll reach when hiking the Enchantments. Located near the town of Leavenworth, this stunning hike is one of the most popular hikes in Washington, and for good reason. To avoid parking issues and crowds, plan a sunrise elopement and then you can spend the day relaxing and enjoying the water. Would you hop into this glacial lake?
Blanca Lake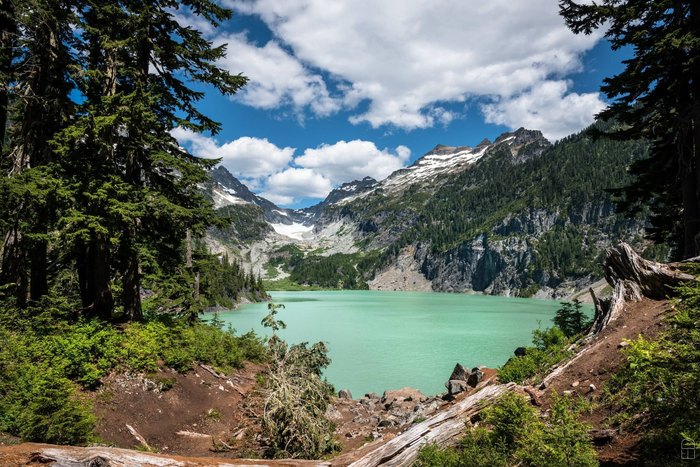 Land Manager: Wild Sky Wilderness and Henry M. Jackson Wilderness; Part of Mt Baker Snoqualmie National Forest
Hiking Difficulty: Difficult
Popular Activities: Hiking
One of the most striking green blue colors, Blanca Lake is a beautiful hike and extremely rewarding once you reach the lake. Plus, the milage on this one is a lot more manageable than a few of the other ones on this list.
Jade Lake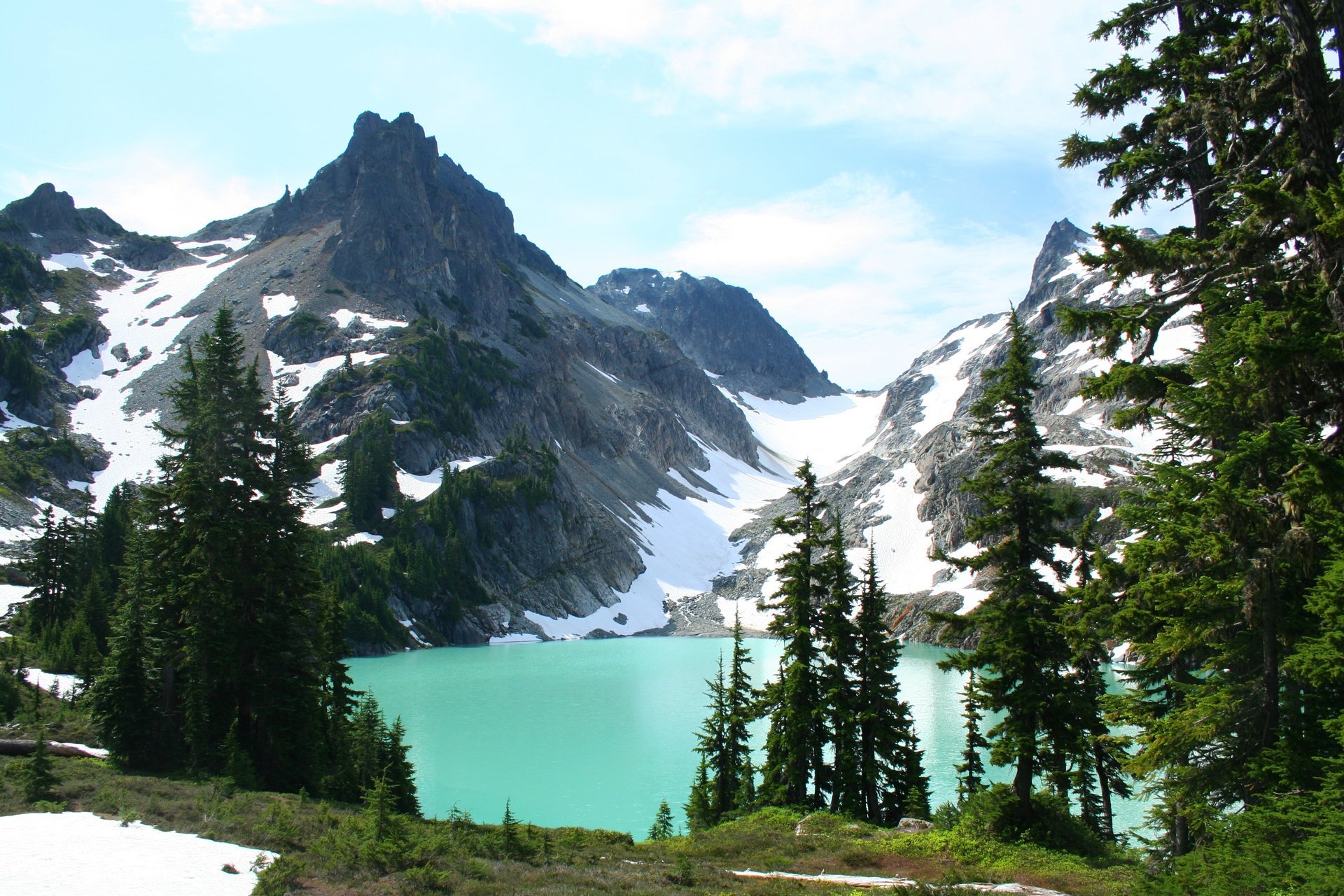 Land Manager: Mt Baker Snoqualmie National Forest
Hiking Difficulty: Difficult; Multi-Day
Popular Activities: Hiking, Backpacking
If I had a bucket list turquoise lake for an elopement, it would be this one. At the end of a grueling 10 miles of hiking, you are rewarded with this stunning lake in a beautiful mountain cirque. This would make a lovely spot for a backpacking elopement because you can camp here! No crazy lottery like Colchuck either.
Lyman Lakes
Land Manager: Glacier Peak Wilderness; Part of Okanogan-Wenatchee National Forest
Hiking Difficulty: Difficult; Multi-Day
Popular Activities: Hiking, Backpacking
If you are looking for REMOTE, then consider the Lyman Lakes! Located in the depths of Okanogan-Wenatchee National Forest, you'll need to take a ferry up Lake Chelan to even get to the trailhead. Then you'll spend 21 miles (round trip) of pristine mountain hiking to reach the lakes. Truly an epic location for a backpacking elopement.
Other Places to Find Glacial Alpine Lakes
Other States
Across the west, you will find stunning glacial lakes in the mountains! Head to Montana, Alaska, or Colorado for some of my all time favorite places to find stunning lakes.
Montana
Colorado
California
Other Countries
Not every country will have the mountains and glaciers needed to make stunning turquoise lakes but there are a handful that I would recommend for your elopement!
Keep in mind, traveling abroad for your elopement does come with additional paperwork, permits, and other logistics to plan for so do your research!

Chili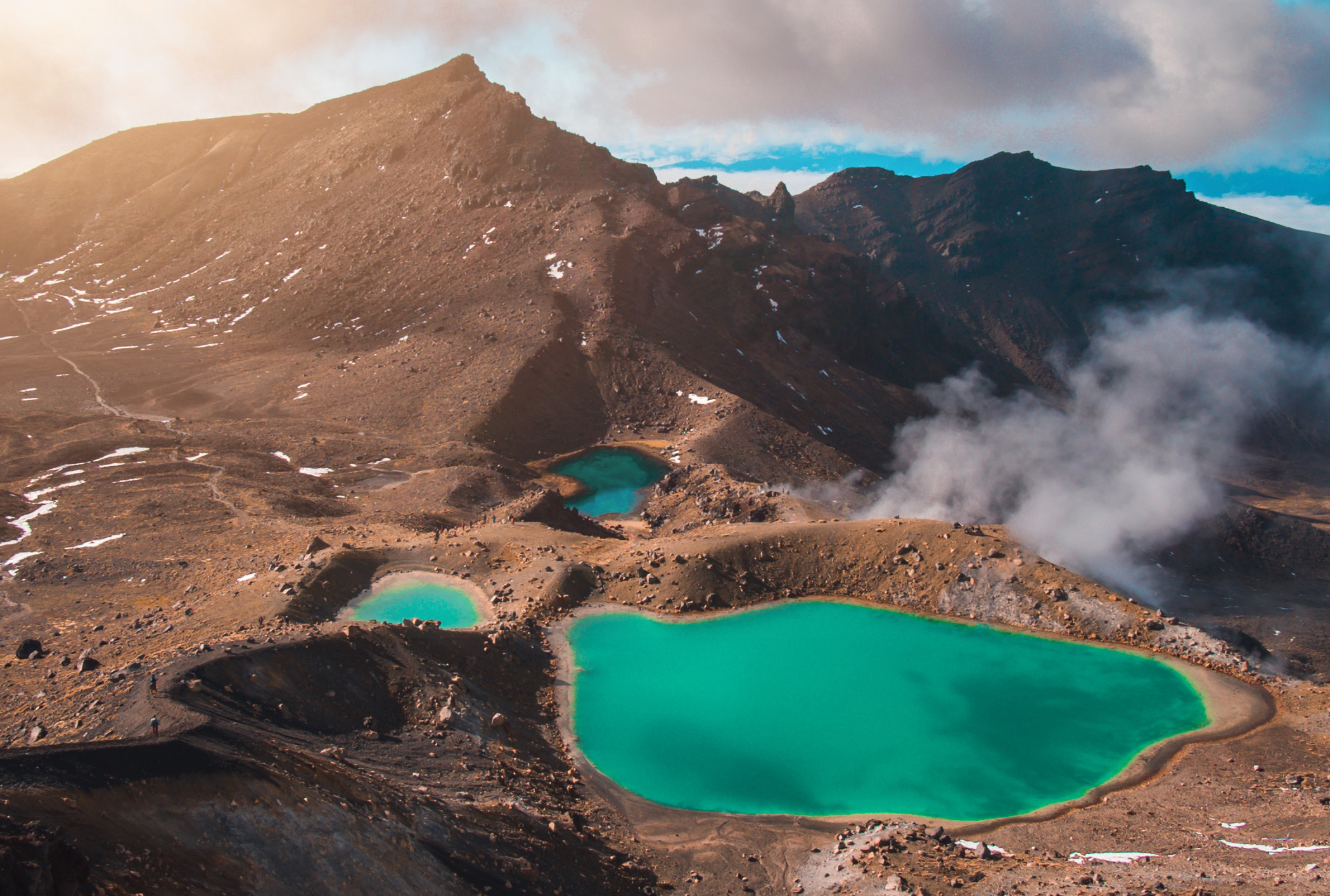 New Zealand
Canada
Italy
Iceland
How to Elope at an Alpine Lake
It can be easy to get caught up in the stunning images that I've shown above but you and your boo must first decide if an elopement is right for you. Ask yourselves why you want to elope. Why you want to elope at an alpine lake. And then ask yourself, for whatever reason you two couldn't get pictures with the lake (either weather, difficulty, trail closure, etc) would you still be happy with your decision to elope. What I'm really getting at is that your elopement day is more than just stunning pictures!
Once you two have made the decision to elope (YAY), you'll want to start researching photographers who work in these special places regularly. Many of these lakes are deep in the mountains and require special knowledge and gear to get to them. Plus, your photographer can help pair you up with a lake that will suite your abilities and vision for the day.
Once you've gotten those two big things nailed down, you can begin creating the most epic elopement of your dreams! Reach out today, I specialize in alpine lake and mountain elopements across the USA!